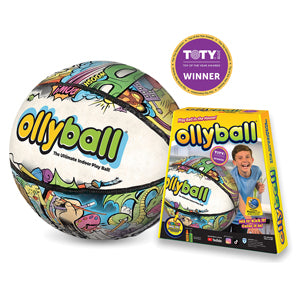 Ollyball for Future Soccer Players
FOR EARLY SOCCER PLAYERS 4+

It's time to PLAY BALL IN THE HOUSE!!! Hit it hard, kick it full-speed indoors without breaking windows, marking up your walls, or leaving a nasty bruise! The 12 inch reinflatable ball, with Patent-pending KrunchCOR®, construction, absorbs the impact from a full-speed hits and kicks. The outside cover, made in the USA, can be colored with crayons, markers and even paint! Ollyball is the ultimate indoor play ball! 
• WINNER of a 2019 Toy of the Year
• Boys' Life Top 19 of 2019
• Top 12 Toy at the New York International Toy Fair by BestProducts.com